Philadelphia Neighborhoods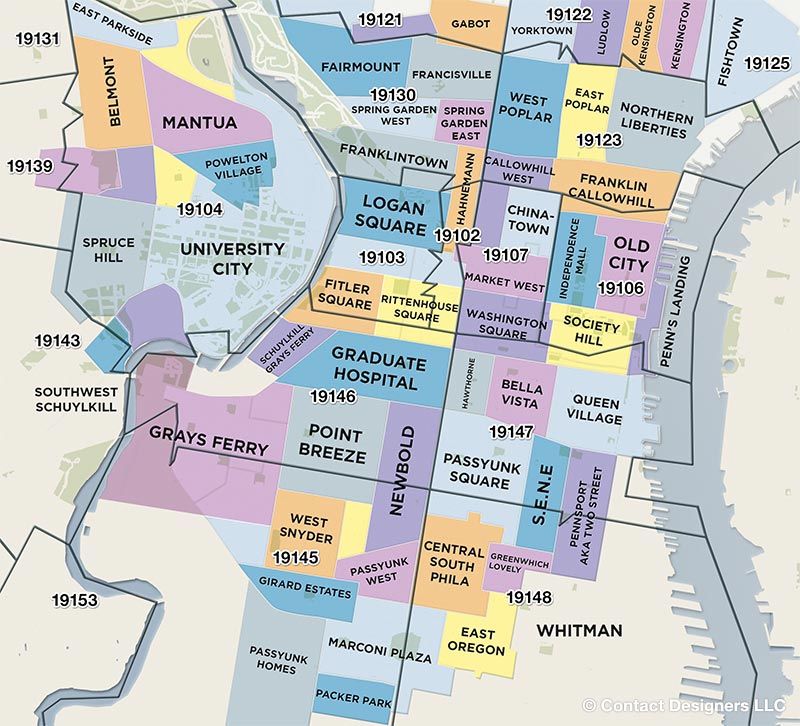 Philadelphia, Pennsylvania is the largest city in Pennsylvania and one of the most populous city in the United States.  Center City Philadelphia includes the central business district, and adjacent neighborhoods of the City of Philadelphia.  Center City's boundaries are often disputed but for real estate purposes the neighborhoods included are, Art Museum Area, Avenue of the Arts, Bella Vista, Chinatown, East Falls, Fishtown, Fitler Square, Graduate Hospital, Hawthorne, Loft District, Logan Square, Manayunk, Newbold, Northern Liberties, Old City, Passyunk Square, Pennsport, Penn's Landing, Point Breeze, Powelton Village, Queen Village, Rittenhouse Square, Roxborough, South Philly, and Washington Square West.  Each neighborhood has its own unique identity and characteristics that define it.  From the luxury condos in Rittenhouse Square to the row homes of South Philly, you'll find different Philadelphia real estate opportunities in each area.
The Center City skyline boasts many of Philadelphia's tallest buildings including City Hall (second tallest masonry building in world until 1987) and of course Liberty One, Liberty Two and the Comcast Center (tallest building in PA!).  Center City Philadelphia is home to much of our country's history including the Liberty Bell, Independence Hall and houses, churches, restaurants and bars visited by the likes of George Washington, Benjamin Franklin and other founding fathers.  Much of our listings give you the thrill of modern day living and amenities, while living in one of the most historic areas in America!
The CenterCityTeam is here to give you as much information about each neighborhood as possible.  We want to give you the history of your new neighborhood, tell you about all the nearby attractions, show you the schools in the area, and how convenient parking is.  All Philadelphians know the struggle of parking on a daily basis, allow our team is help you with all these small details of city living.  As lifelong residents of this great city, we'll be able to give you the insider info you're looking for!
Philadelphia Neighborhoods
Click on a link below for more information on a Philadelphia Neighborhood.