Oh, 2013. You were a good year. You gave us Miley Cyrus on a "Wrecking Ball," Katy Perry's "Roar," and the inescapable-yet-controversial funk of Robin Thicke's "Blurred Lines." "Twerk" and "selfie" were added to the dictionary, people lined up for blocks to eat cronuts, and everyone and their mother were hooked on Candy Crush. While we're reminiscing, let's talk about a 2013 Philadelphia dream that never came true: Eataly. The planned food hall, created by superstar chef Mario Batali, promised a slew of high end restaurants, food and beverage stations, bakery, and retail items. The first Eataly was in Turin, Italy, and landed stateside with outposts in New York, Chicago, and, recently, Los Angeles. Way back in the day, we bought the rumors that Eataly was coming to Philadelphia, possibly in the old Strawbridge's building on 8th and Market.
Suffice it to say, Eataly never happened for Philly. With nary a word, the project just didn't happen, and nobody really knows why. The upside to this upsetting fact, however, is the fact that Philadelphia has several outstanding food halls that more than make up for the what-could-have-been dreams of Eataly. There are those who say that Philadelphia created the food hall, with the Reading Terminal Market. But we have more than the RTM these days. The following three food halls keep our mouths watering.
Chinatown Square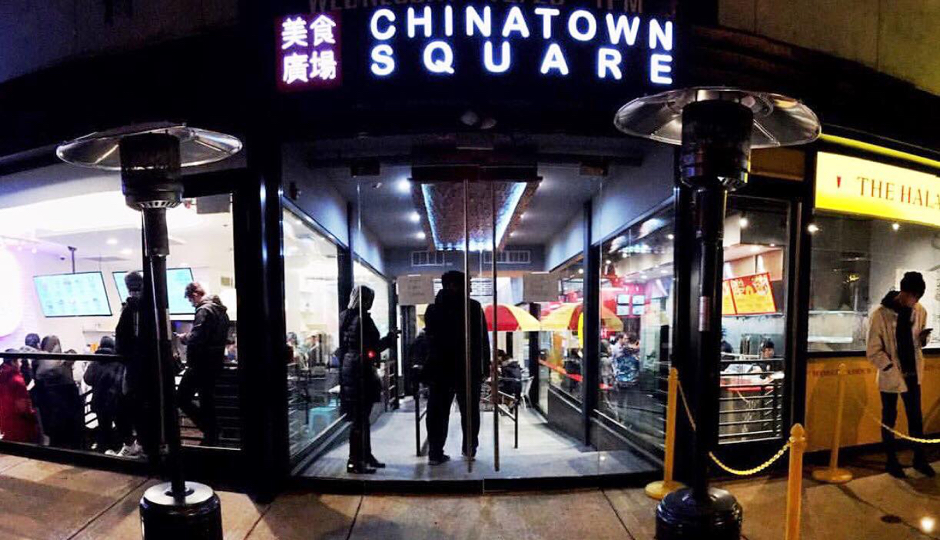 Nearly a neighbor to the Reading Terminal Market, Chinatown Square (located, where else? – in Chinatown) was the city's first foray into the food hall arena. It was originally supposed to be open 24 hours a day, but it stays open late with some stalls not closing until 2 am on weekdays and 4 am on the weekends. Anchoring the food hall is Philly's first Halal Guys location. Specializing in gyros and shawarma, this is the place to get the Mediterranean food you crave. There is also a Thai rolled ice cream bar, a Cambodian barbecue joint, and other stalls specializing in curry, poke, and Mexican/Korean fusion. Once you've stuffed yourself, head upstairs for a few jams at one of the several karaoke bars.
Franklin's Table
Once billed as the Penn Food Hall, Franklin's Table took over the space from an out-of-date food court on UPenn's campus. An unabashedly upscale enterprise, Franklin's Table reflects the gentrification of West Philly and the changing tastes of residents and students alike. Where Taco Bell and Quizno's once stood are now local restaurant outlets: an artisinal pizzeria where handmade pies are made from scratch; a the popular Little Baby's ice cream, where four daily flavors rotate along with a quartet of non-dairy flavors; a high-end burger joint where you customize your sandwich from a touchscreen menu; a sushi place offering authentic rolls and bento boxes; and a juice bar where you can fuel your craving for healthy concoctions featuring fruits and veggies as shots, smoothies, and more. Anchoring the food hall is a location of the immensely-popular Goldie, which serves all-vegan middle eastern fare. The falafel is their specialty and has to be tried to be believed! Wash it down with a much-beloved tehina milkshake. It's worth noting that most of Franklin's Table vendors are credit/debit only, so make sure you pack your plastic!
The Bourse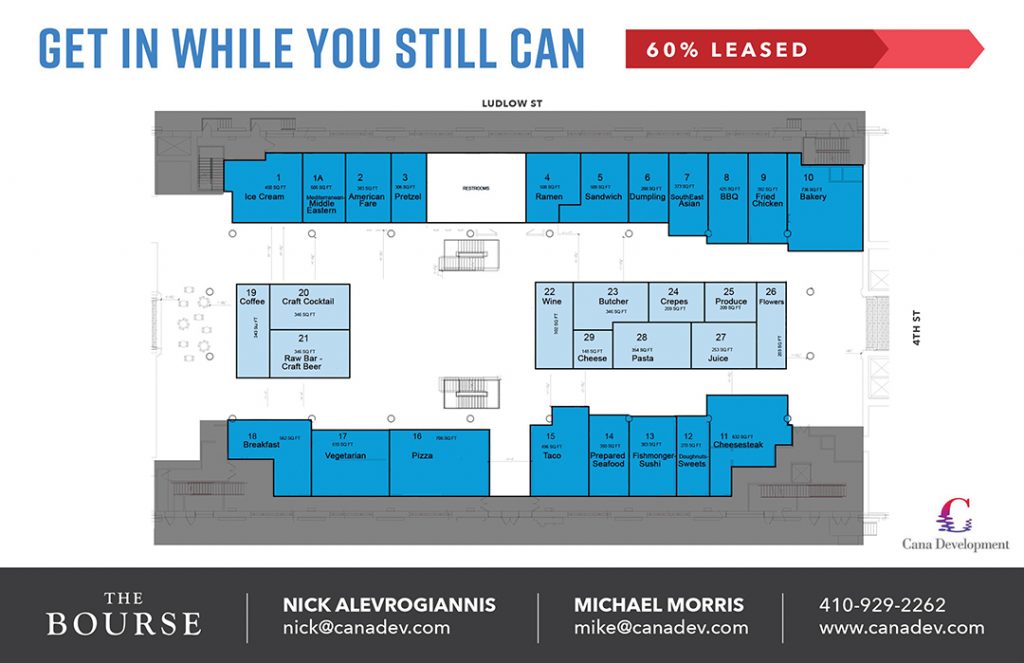 Coming soon to Philly is its newest food hall, The Bourse. If you're living in Society Hill or Old Town then you are in for a real treat with this newest food hall within walking distance of your home. From Food & Wine magazine:
"America's first commodities exchange—dating all the way back to the Victorian Era—is an architectural marvel, long ago converted to mixed-use; in recent years, it had become known primarily for an uninspired food court, along with an unglamorous collection of shops; the whole mess ended up catering primarily to unsuspecting tourists. (The Liberty Bell is all but out the front door, so that makes sense.) Next year, the ground floor gets a glorious refit, bringing in a sizeable number of carefully curated vendors, selling everything from olive oil to chocolate to dumplings to craft cocktails. Look for a Summer 2018 debut."
Despite it being almost Labor Day, The Bourse has yet to open, but hype for it is high. So far the retail map (see above) features an exciting list of dining categories. I'm anticipating The Bourse to become The Spot to eat when taking the tourist tour of Philly.
Are you feeling the food hall hype? I know I am!