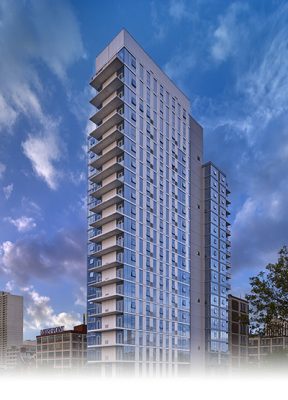 Building Info
Parking:

YES

Pets:

YES

Balcony:

YES

Doorman:

YES

Gym:

YES

Pool:

YES
Address:
225 South 25th Street, Philadelphia PA 19103
Fitler Square
More about One Riverside
Overview
One Riverside is the exceptional exception to the rule. With just 68 residences, the soaring 22-story glass skyscraper offers the best of everything in a location second-to-none. Built by premier developer Carl Dranoff and designed by acclaimed architect, Cecil Baker, it is a contemporary beacon for the neighborhood that is beautifully integrated into the texture and fabric of Fitler Square. There will be just 4 to 6 units per floor, perfectly in keeping with the intimacy of the area. Located at 25th and Locust in charming, historic Fitler Square, you are in the heart of urban living, walkable to everything, yet you are literally in a park, surrounded by grass, trees, gardens and paths. One Riverside is within easy walking distance of Rittenhouse Square, the University of Pennsylvania, Drexel University, 30th Street Station, Children's Hospital and more. It's one of the most sought after neighborhoods in the city because of its well-tended houses, friendly neighbors, walk-to-everywhere location and strong sense of community.One Riverside sits at the entrance to the 60-mile Schuylkill River trail and the promenade to the South Street bridge. It is adjacent to Schuylkill River Park with a dog park, tennis and basketball courts and playgrounds. The naturally beautiful and serene community gardens also adjoin the property.All but a few homes come with balconies or terraces that overlook the gardens, the river and the city skyline. The views are dramatic- and endless – with sweeping panoramas to the North, South, East and West. Surrounded by public parks and the river these views will always remain.
Current Condo Listings at One Riverside
Property Type
Condominium
Property Type
Condominium
Latest Posts From Our Blog
We Provide The Latest In Philadelphia Real Estate News